0402 394 191
Feature Project
Lorem ipsum dolor sit amet, consectetur adipiscing elit, sed do eiusmod tempor incididunt ut labore et dolore magna aliqua. Ut enim ad minim veniam, quis nostrud exercitation ullamco laboris nisi ut aliquip ex ea commodo consequat. Duis aute irure dolor in reprehenderit in voluptate velit esse cillum dolore eu fugiat nulla pariatur. Excepteur sint occaecat cupidatat non proident, sunt in culpa qui officia deserunt mollit anim id est laborum
Feature Project
This Mermaid Waters home featured a huge ensuite completely tiled in Bisazza mosaics. Black was the main colour with a feature wall and a tiled bench seat in the steamroom.
STONE & MOSAIC GALLERY – GOLD COAST TILING
Stone
Primarily used as an outdoor tile, stone is now becoming more common indoors, in bathrooms, and as feature tiles. Our Gold Coast Tiling team specialise in laying marble, travertine, sandstone, limestone, stackstone, and others.
Stone can be an excellent feature in various areas including:
A feature in a bathroom or kitchen
Pool surrounds & waterfall walls
Pillars at the front of your house with mitred edges
Letterboxes
Due to the delicate nature of some stone, experience is crucial. Knowing how to handle and lay stone is very important. Having the appropriate equipment is equally important. A quality wet saw is needed to get a clean, concise cut, and reduce dust.
"We engaged Straight Edge Tiling to assist with our house renovation, the job at hand was going to be a challenge for whoever took on the task, Straight Edge Tiling took on the challenge with the ability to problem solve when needed and at all times they were great communicators and problem solvers. They have more recently completed tiling to two new bathrooms and a laundry which cosisted of 600 x 600 and mosaic tiles. I have no hesitation in recommending them as a tiler of choice."
Tanya Vincent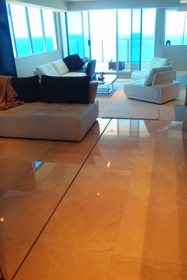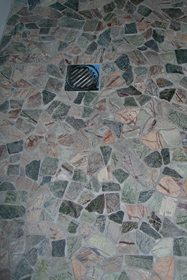 MOSAIC
Mosaic tiles can be the most eye catching and breathtaking tiles to display. They can also be the most difficult to lay. Our Gold Coast Tiling team have much experience in laying many kinds of mosaics, including Bisazza glass mosaics.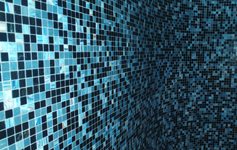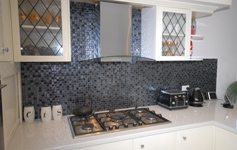 Mosaics can give a distinct modern, innovative look. From features in bathrooms & kitchens to whole walls or even whole rooms, the possibilities are endless.